The Irish Wakers celebrate the songs and dance music of Ireland, with nods to the Canadian Maritimes and to seafarers everywhere
Singer Marian Buechert returns to An Irish Christmas this year after appearing at the 2014 Princeton Traditional Music Festival and the Water Valley Celtic Festival. She is joined by guitarist/vocalist Martin Harris.
http://www.ravenanddove.ca/music.htm
Michael    BC youth Fiddle Champion 
Rebecca Blair -  Celtic Harpist 
        Rebecca Blair    Rebecca has attended many Celtic harp workshops in North America and Ireland where she studied with such notable harpists as Kim Robertson. Her busy schedule includes teaching Celtic harp, recording, and performing with the group the Maenads. Rebecca keeps pursuing the heart of folk music by attending local Irish sessions and studying Irish dance. 
Sarah Ann is also currently in studio working on a Celtic EP with singer/songwriter/producer Murray Yates (Forty Foot Echo/Templar) and recently teamed up with Scoil Ghaeilge Vancouver to work on the song "Oh A Ghrá Mhín " which will be included in the short film Madness.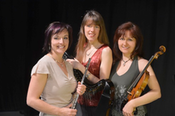 Return to HOME PAGE